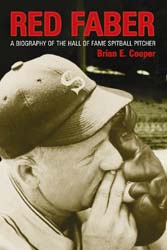 McFarland & Company, Inc., Publishers
Jefferson, North Carolina 28640
ISBN: 978-0-7864-2721-5
This is the first full biography of Hall of Famer Urban "Red" Faber, who won a record three World Series games in 1917— until 2005, the last time the Chicago White Sox won it all.
The winningest spitball pitcher in the American League and one of the oldest players ever to wear a major league uniform, Faber regularly challenged the game's top hitters.
He experienced the heights of championship baseball until the Black Sox scandal decimated Charles Comiskey's team and relegated Faber to stardom on second-division White Sox clubs.